Cool news my darlings!
Today I finally got my new phone number for Changchun. No, I'm not telling you what it is 😛  But at least I managed to get it all on my own without help from my company!
For the last 3 years, I have been a loyal customer of #ChinaMobile – one of the three largest phone companies in the nation (the other two are China Unicom and China Telecommunications).  When I first came to China, China Mobile had a definite stronghold on the market, but since then the other two have come a long way.  Still, I have had a good run with the company.  
Here's how phones work in China (*in my experience).  You get a monthly "local" plan (I used to pay 28rmb (approximately $4) a month for about 200MB of data and 300 local minutes).  Now when you get your SIM Card, you open an account.  You can deposit money into that account whenever you want via WeChat, Alipay, QQ, stopping by the local shop, etc.  So let's say that I know next month I won't be home to pay my bill because I'm out of the province.  So I put 60RMB on my account. Great, this month they pull out 28rmb.  Next month, they pull out 28rmb. You still have 4rmb for later.  What if you were super busy and used up all that data and local minutes (like my friend who got a job as an assistant, forgot to fix his phone, and used up 3000 minutes in a month)? You can use the money on your account to buy new data or minutes.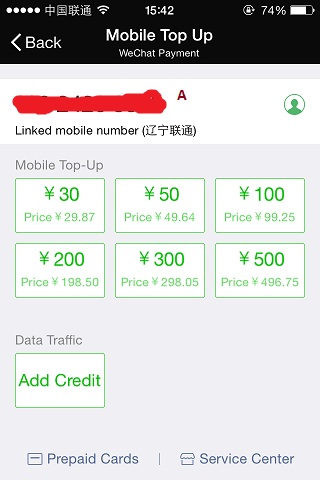 The problem with China phones is traveling.  Unlike the US which operates on national plans, a lot of China's phone stores are separate.  This means that you can only put money on your account IN YOUR HOME PROVINCE.  So, if you travel from Beijing to Shanghai, you can use your phone (paying a roaming fee) until all the prepaid money is gone. But once you run out, you can't just go to a China Mobile in Shanghai to add more money. It doesn't work that way.  Instead of charging you overtime once your plan is up, the phones here simply stop working. No incoming messages, no phone calls, no wifi.  You just get a "this account is out of money warning message. Nor can you simply "change your plan" to a new location – you need to buy a new card for the new province. This makes travel for extended periods rather difficult.  Most of my students who are from out-of-state actually end up buying two phones. One local and one in their home provinces. (Yes, phones are cheaper in China – Except Apple.  They still cost a price more reminiscent of a house down payment than an accessory cost).  
Long story short – with my move from Henan to Jilin, I ran out of money on my card and spent the last week with no data. Gasp. Choke. Die!  Seriously, try figuring out how to operate in Chinese with no working internet translator, baidu search, etc.  It sucks!  Since I couldn't just "add more money" to my Henan card here in a different location, I had to figure out how to get the whole new phone card account for Jilin Province.  
Unfortunately, I've found myself using up more and more data over the last two years — especially since my classroom wifi isn't always working.  I still basically never call people (I prefer text or social media), so minutes weren't an issue, but I did want to change my plan to get new data. So new hurdle to add to the pile.  
Yesterday, I tried visiting the store close to Walmart, but was told they couldn't accept my US Passport as an ID. They had to have a "Chinese ID." Instead, they sent me to a different place about 10 minutes away.  
Today, I visited the new place and we set it all up.  It took a long time (about 3 hours) to figure stuff out.  I ended up getting a much larger family plan for 58rmb a month (about $8).  I just looked at the sheet they handed me, used my phone translator, and pointed it out.  They had to have my passport, a copy of my visa, and a Chinese name.  At first, she said they needed a Chinese ID card, but we figured out she just needed the name itself. She tried changing my name (Olivia) into 玻利维亚 (Bolivia) but I held out for 奥利维亚 (Ào lì wéi yǎ – my actual Chinese name).  😛  I had to take a ton of photos (3) holding up my passport ID and I got to  pick out my new phone number (in China a phone number is +86 ### – #### – ####). I signed my name (last name first, all caps, printed exactly like my passport). 
Finished!  And in the process, the worker gasped at my age and said "You young. Look young" and the manager called me "beautiful girl" (he was good looking himself!).  Gave them a TON of bonus points in my perspective.  
To be honest, I've kind of simplified the whole thing – it actually took about 5 employees, 3 translation apps, one poor customer involuntarily recruited into reading the english from their apps to me, and a lot of effort.  But it was possible and we did it! So if you are off alone in China, you can do it too!