If you have friends or family who are expats stuck in the middle of the virus situation right now, please reach out. They're not okay.
The news is filled with stories about the corona virus currently hitting China and other countries around the world.
What many people aren't aware of is the plight of the expats who live and work in China. There are an estimated 600,000+ expats (1) and their families living in China, many of whom live in the harder hit city areas like Shanghai and Beijing.
Then there are the tourists, students, and other temporary visitors who got caught up in the situation. Not to mention the concerned relatives and friends at home.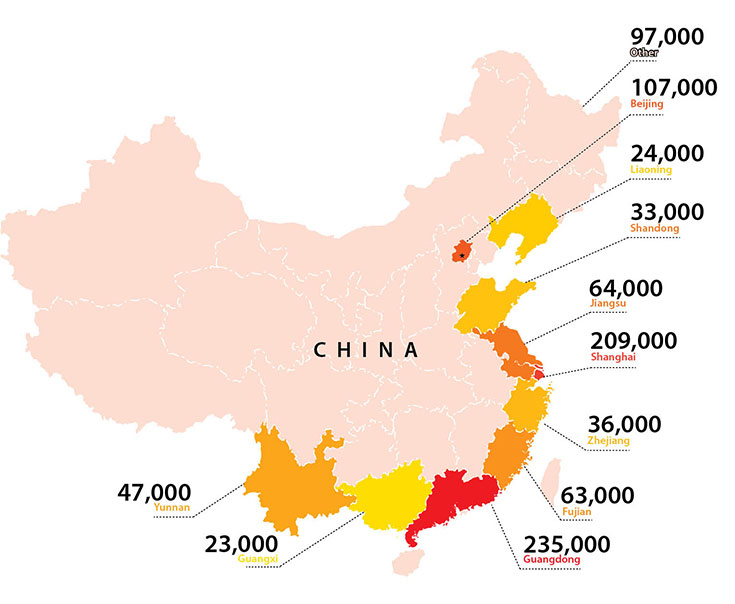 So today, we wanted to give you a little insight into the concerns and issues facing your friends and family abroad, using our own situation a bit as an example.
The Lunar New Years
From January through February, China and its businesses are celebrating the Lunar New Years. The holiday is one of the largest migrations of humans annually. An estimated 380-400 million people are given several days to weeks off of work and begin travelling home (2).
As teachers, our holiday started around January 15th. Other schools had left earlier.
Many families, hoping to avoid the travel insanity, stayed at home and are now in lock-down / self-isolation with the other Chinese citizens. They face many of the same concerns and issues as anyone else in that situation. For example, there are no masks available for purchase and you can't go shopping for food or necessities without one. If you ask someone to ship masks, there are concerns they will be held up at customs.
Others took off for other countries — Vietnam, Thailand, Philippines, Japan — with expectations of a couple weeks to a months' vacation.
Now many of these people are left in limbo — waiting for news from employers, praying that paychecks are delivered on time, and scrambling to stay ahead of the growing flight blackout.
January Outbreak
Some got the warnings earlier, some later. But slowly employers started sharing the news — the corona virus outbreak was spreading and the fears of transmission through travelers was high. In the largest migration of humans on earth, no one was supposed to travel.
Our Situation
January 22 – Faculty was warned not to visit Wuhan or 'epidemic areas' for the holiday. The office began gathering information about where people were and travel plans.
January 27 – The school announced it would be delaying Spring semester 'until further notice'. Faculty are warned to delay their return to China if possible. We are informed we will be paid in February, but March is uncertain as the staff are delaying return to the office.
January 30 – All returning faculty are expected to undergo 14 days of self-isolation when returning.
January 30 (later in day) – Faculty and international students are asked not to return for 'the near future' until further notified. All returnees with or without symptoms must be isolated.
January 31 – the school is officially closed entirely. All people entering must undergo a health check, register at the gate, and bring ID.
February 4 – Reaffirm that faculty should not return until further notice.
February 4 (later in day) – Faculty 'shall not return to school in advance before the first-level response of major public health emergencies is cancelled'. Those who do return must have a heath checkup, must inform the employer 2 weeks in advance, and must self-isolate for 14 days.
February 5 – Please don't return.
February 6 – It's better not to return. Many businesses are closed and shopping is difficult.
February 7 – Do not return until further notice. . . .
February 8 – School will resume with online courses likely around February 24. Faculty should not return until further notice.
February 13 – All returning teachers much inform the hiring department of their itinerary for the past 2 weeks. Teachers will be picked up at the airport and driven immediately to the hospital and then to housing for quarantine.
February 15 – The community service center announced all people must be quarantined for 14 days and are not allowed to leaving the house for any reason at all. For some, food (enough for 2 weeks) must be purchased in advance. For others, 'vegetables' will be provided by service people. You must report to officials your temperature twice daily. Anyone from or laying over in Guangzhou, Hubei, Zhejiang, and Henan will be quarantined elsewhere and are not allowed on housing site.
And so on ever since. No new information regarding the timeliness of March salaries.
The Current Outbreaks
*based on published figures
China
International
If you want to stay on top of the virus maps, you can track it on WeChat (China Social Media). Scan the code below and follow them. Type 'virus' in the search bar for the most recent map. They've been good about staying updated.
Ongoing Concerns
Transportation Issues
As travelers moved internationally, the virus spread to other countries. Slowly airlines and countries began shutting their doors, leaving everyone hanging in uncertainty.
In total, more than 73 airlines (full list here) have cancelled all or many of their major flights to and from China. Many of those are countries highly visited by foreign expats during the lunar holiday. This means people who are in China now can't necessarily get out, and those who are out of China can't necessarily get in.
Sample List
Country
Airline
Cancellations
United States
Delta Airlines
All Flights
United States
American Airlines
All Flights
United States
United Airlines
All Flights
Thailand
Thai Lion Air
Flights to Chengdu
United Kingdom
British Airlines
All Flights
Philippines
AirAsia
All Flights
Khazakhstan
Air Astana
All Flights
Canada
Air Canada
Flights to Beijing, Shanghai
India
Air India
Flights to Shanghai.
Decreased flights to Hong Kong
(Business Insider, 2020)
Those stranded are virtually homeless. Entire lives down to one or two suitcases and slowly declining funds and supplies.
We have no where to go, and many don't have the money to get there. Many can't even find (or afford) flights to family in other countries at this point. And that's assuming the country lets you in.
Some countries are starting to turn away people or foreigners who visited China in the last 14 days.
Sample List
United States
Issues Level 4 Travel Advisory – Do not travel to China
Bans foreigners who have been to China and pose a risk unless immediate family of citizens.
Those evacuated are quarantined at bases in California.
Vietnam
Banned all foreigners who were in China within last 14 days
Taiwan
Banned all Mainland Chinese travelers (3)
Tourists from Hong Kong & Macao must undergo 14 days of isolation
*No foreigners who visited Hong Kong or Macao. Unclear, but presumed to extend to foreigners coming from Mainland China too.
South Korea
Ban on anyone who has traveled to Hubei Province in last 14 days (4)
Financial Issues
I was lucky, and my employer paid me for February. However, that money had to cover the additional time in a hostel and food.
My family planned on two weeks in South Korea, a trip now extended to four weeks and potentially six or more if I adhere to my government and employer's travel warnings. That makes for a hefty living expense, and my March salary is uncertain.
We packed two weeks of medicine, two weeks of clothing, two weeks of necessities, supplies, etc. Everything we own, everything we need is now back at home in China. And the supplies are running out.
Others weren't as lucky and aren't being paid at all. Some are being told they have to return now or risk losing their jobs or not be paid for the delay – again it's hard to do that when flights are cancelled left and right.
An expat's salary in China may be respectable for China, but is very hard to take abroad to some countries. In comparison, a coca cola in Seoul (2,000KRW – 11RMB) is about 4x the price of a cola in China (510KRW – 3RMB).
Furthermore, many expats are paid not in cash but in housing and living expenses. Which they now aren't receiving and aren't being reimbursed for.
Flight cancellations may be refunded, but those refunds are not immediate. Money can be tied up for up to two months. That's if you can get through to the airline company and ask for the refund – I'm #603 right now in line on Ctrip and have been waiting 5 and a half hours.
Lifestyle Concerns
Many families have children that are now at risk, either trapped in isolation or left homeless outside the country. Some families are now split up as parents who traveled home with the kids or traveled out for business now struggle to reunite.
A few are virtually jobless – one close friend has a husband working with sports activities, but those are all cancelled until further notice. Their family had to pack everything up and abandon the lives they had built by returning to their home country. They can't afford to wait and see.
China extended the national lunar new year holiday until mid-February in some cases to limit the transit of people. This left many government offices throughout the country closed for the duration. Some expats reported passports sent for renewal or for visa applications were now inaccessible, that visas were expiring with no flight or renewal options, that notarization of key documents was now delayed, and similar concerns. China has tried accommodating people where possible and many countries tried to work with the expats, but the stress remains.
Travel insurance is extremely expensive, and while families may be insured in China, they are likely not insured elsewhere.
Visas are expensive and the friendliest countries only allow 60 – 90 days. Anyone locked out much longer may have to pay for flights to a new country to beat their deadlines.
Many schools are moving to online courses, but this means teachers who are now nomadic are limited to the resources on their laptops or tablets and the hope that the hotel has strong wifi.
I already had to delay my dissertation, and this will certainly affect the studies of other students who expected to graduate in Spring.
I know my houseplants are dead, but at least I didn't leave a pet behind. Expats with pets now find themselves in the Sophie's choice of either abandoning them or finding some expensive way to fly them out. Some airlines aren't allowing pets to travel as is at this point.
Like I said, if you have friends or family – check on them.
These are only a few of the issues expats are facing. For many, it's the choice between risking you and your families health or risking the possibility of finding yourself penniless and homeless in a foreign country you escaped to.
Others don't have the choice at all – they are already stranded abroad.
Call them. Help them. Pray for them.
And remember to support everyone else affected by the corona virus too.
Jiayou China!